Presents


Global Real Estate Crowdfunding
Conference II -
at The Players Club,16 Gramercy Park South


New York, NY 10003
on April 24th
2014
Ticket Sales brought to you by NYEVENTSLIST.COM
You can follow us on
Facebook: www.facebook.com/newyorkeventslist
Contact Us
Email: tom.elliot@nyeventslist.com
Sponsored by The Soho Loft, Connected Investors, Pura Vida Tequila, Social Radius, Loeb & Loeb
"Experiencing this event is like t
hat desperate need for air when you hold your breath for too long.
The event was so powerful and presented so much opportunities that it is hard to find words powerful enough to convey the message."
***************
Interested in meeting Real Estate Investors?
Then register for The Soho Loft and the FundingPost Real Estate Investing & Leading Crowdfunding Conference II on Thursday, April 24, in New York City!
See the leading crowdfunding realty players talk about their amazing growth in the industry - see top 10 crowdfunders in realty according to Forbes that 21,000+ people read about already:
http://www.forbes.com/sites/groupthink/2013/04/19/crowdfundings-latest-invasion-real-estate/
The Soho Loft and FundingPost has hosted 200+ sold-out venture events in 22 cities over the past 12 years.
The panels for the day:
Early-Stage Real Estate Investing: How to meet investors, pitch them, and what it really takes to get them to write you a check!

Returns on Real Estate: What investors expect to get after they back you.

Using CrowdFunding to raise capital for Real Estate: Learn about the newest trends and take advantage of the newest technologies
Who should attend?
Real Estate entrepreneurs raising capital.

Real Estate Investors (VCs, Angels & Corporate) to meet companies and speak on our panels.

EB 5 real estate investors

Exhibiting Companies to demo their stuff for partners and investors.

Sponsors to moderate panels, exhibit and meet Real Estate companies and investors.
April 24, 2014

AGENDA

MORNING

8.00 to 8.40

Breakfast/Registration

8.40 to 10.10

Pitching Workshop: Joe Rubin, Director of FundingPost

10.15 to 10.35

Break/Networking

10.35 to 10.40

Introductions:

· David Drake, Chairman of The Soho Loft

· Diamond Sponsor - VictoriaGlobal.co

· Gold Sponsors - S&F Managers, TimesRealtyNews.com and BestOfAllWorlds.com

10.40 to 11.00

Keynote: Richard Russo, Morgans Hotel Group

11.10 to 11.55

Panel 1: REAL ESTATE CROWDFUNDING TRENDS AND GROWTH

11.55 to 12.10

Table Introductions

12.10 to 12.30

Quickfire Intros

12.30 to 1.30

Lunch

AFTERNOON

1.30 to 2.15

Panel 2: REAL ESTATE INVESTMENTS BY FAMILY OFFICES

2.15 to 3.00

Panel 3: STRATEGIES: HOW DO YOU CROWDFUND YOUR REAL ESTATE?

3.00 to 3.20

Break/Networking

3.20 to 3.30

S&F Managers - Colombia and Galapagos Islands Hotel Projects

3.30 to 4.15

Panel 4 GLOBAL PLATFORMS: REAL ESTATE CROWDFUNDING FROM INTERNATIONAL INVESTORS

4.15 to 4.30

Table Introductions

4.30 to 4.45

Closing Remarks: David Drake, Chairman of The Soho Loft

4.45 to 6.00

Cocktail Party/Networking
Breakfast Workshop:
Additionally, ALL companies can attend the Pitching Workshop Breakfast from 8am-10am. During this workshop we will completely deconstruct your elevator pitch, and work with you on formulating a clean and concise elevator pitch giving the important information that investors NEED to hear to make an educated decision on your company!
There will be plenty of time for networking with the Investor panelists, both before & after the panels and at the networking Lunch and Cocktail Party!
Exhibitors
There will also be several exhibitors at this event - if you have an amazing project you want to show off, you can have a exhibit booth at the event. This room will be filled with talent - Bring your best stuff! Exhibiting Companies will give a 2 Minute Elevator Pitch in person to the Panel of Investors during the event! There are only 15 spaces left for Exhibitors.
As an additional benefit, entrepreneur 1/4 page summaries will be given to the investor speakers and attendees. All of the Investors will get your company description and contact info!
Location: The Players Club, 16 Gramercy Park South,NY,New York
Date: Thursday, April 24, 2014
Time: 8am-6pm
Cost:
- Attendee Ticket: $365
- Exhibitor: $1000
KEYNOTE: DENNIS IRVIN, Rockefeller Realty Management
Panel 1: Early Stage Realty Investing
Panel 2: Realty Crowd Funding exploding and who takes the lead.
Panel 3: Fund and capital formation - Institutions and Family Offices
Panel 4: EB5 - are foreign investors your solution in real estate?
Articles about Conference I - November 14, 2013:
A Crowded Room with Barry Sternlicht and Kent Swig: New Financing for Real Estate
Real Estate Crowdfunding: Why it's a Big Deal
Event Photos from Conference I - November 14, 2013: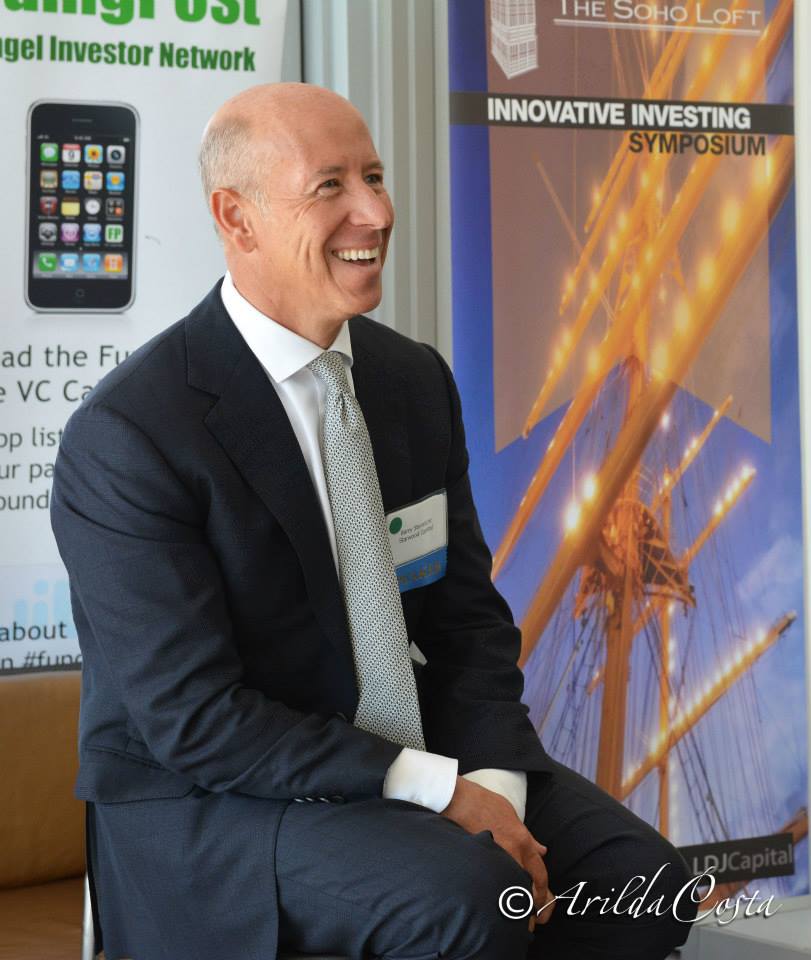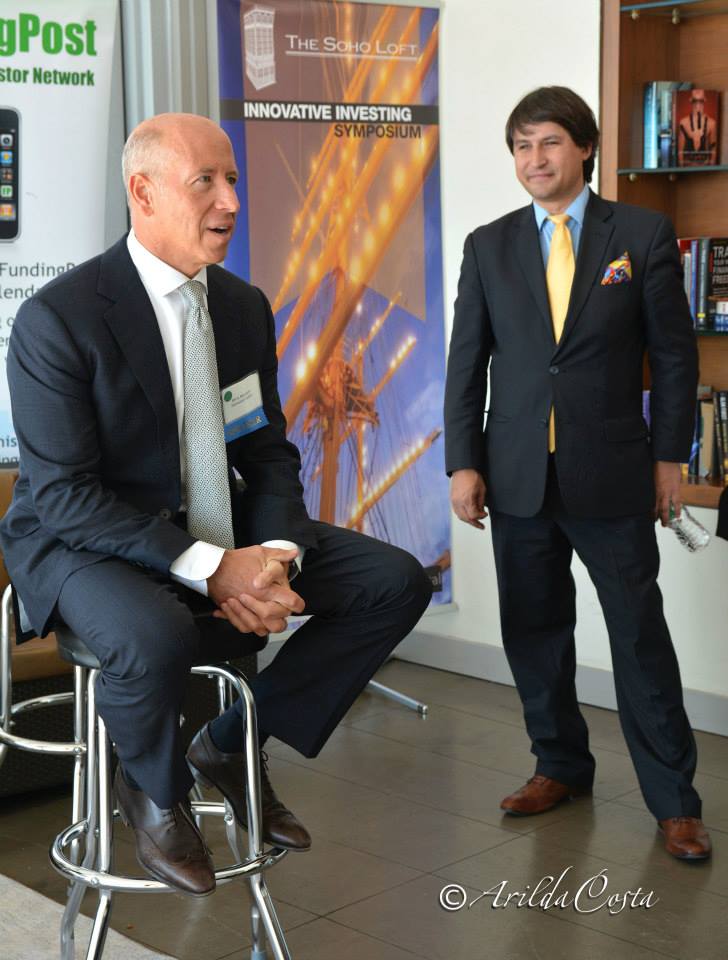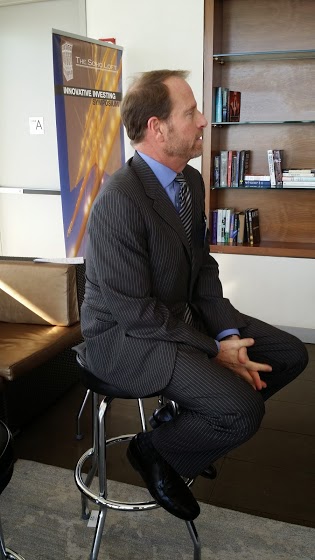 Barry Sternlicht of Starwood Capital and Kent Swig of Swig Equities keynotes.
David Drake moderates.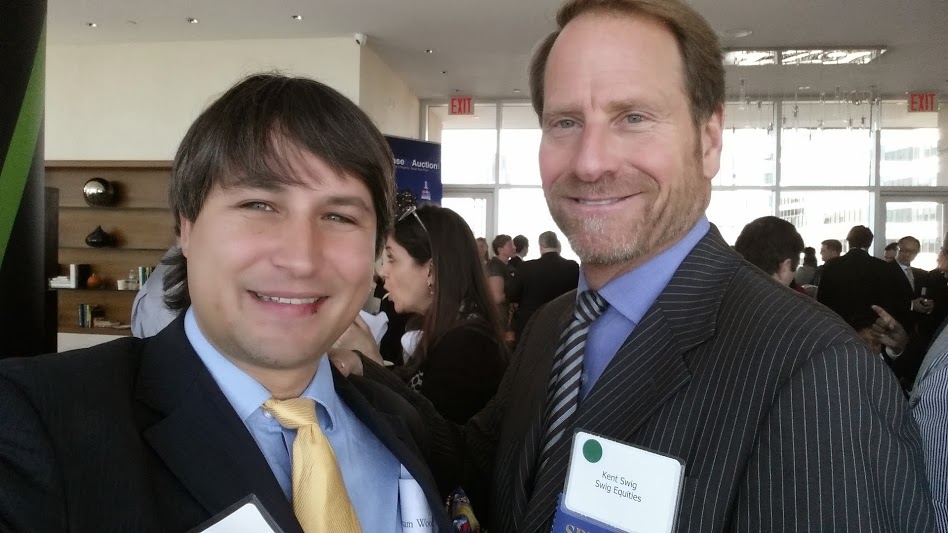 David Drake and Kent Swig of Swig Equities.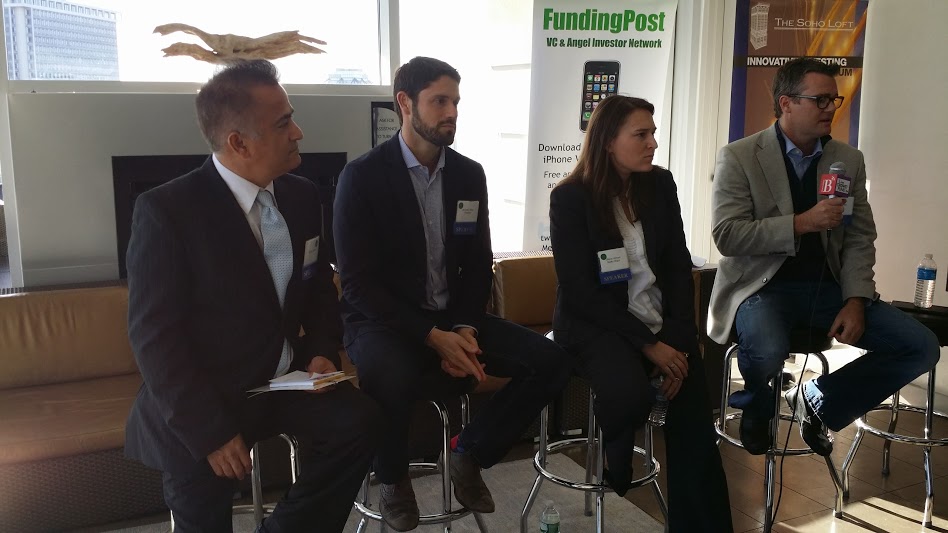 Real estate Crowdfunding panel.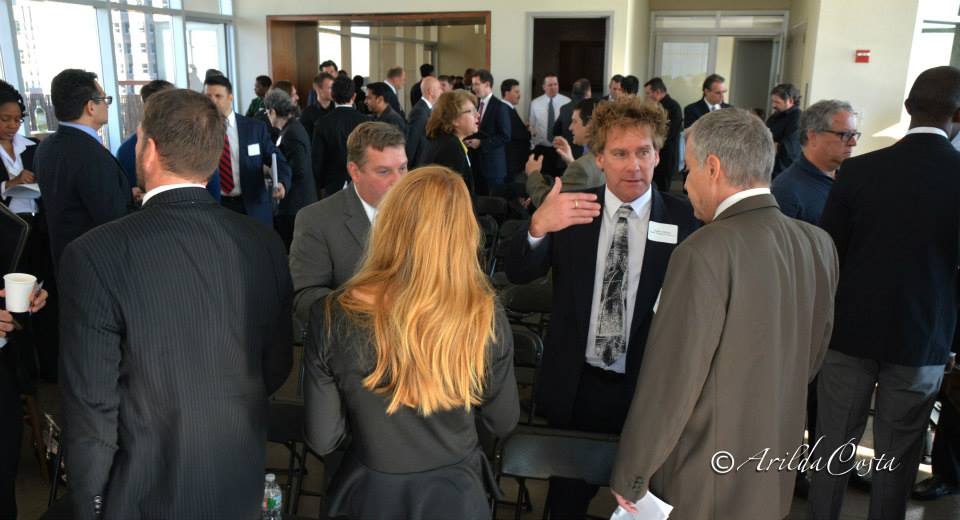 November 14 Programme:
8:00 Breakfast/Registration
8:40 - 10:20 Pitching Workshop
10:20 -10:40 Break/Networking

10:40 -11:10 Keynote: Dennis Irvin, CEO Rockfeller Group
11:10 -11:55 Panel Discussion 1: Early-Stage Realty Investing
How to meet investors, pitch them, and what it really takes to get them to write you a check!
Panelists:
Jack Bevier, Dominion Group

Gerard Rem, Distressed Real Estate Investor - NYC bankruptcy court investor

Nick Jekogian, Signature Group Investments
11:55 - 12:10 Table Introductions
12:10 - 12:30 Quickfire Intros
12:30 - 1:20 Lunch

1:20 - 1:45 Keynote:

1:45 - 2:30 Panel 2: Leading Crowdfunding for Realty in North America
See who is making a difference and how you can do as well.
Moderator: David Drake
Panelists:
Ben Miller, Fundrise

Jillene Hellman, Realty Mogul

William Skelley, iFunding

Sydney Armani, Realty Crowd Funding and Crowdfundbeat

2:30 - 3:00 Break/Networking
3:00 - 3:45 Panel 3: Angels, Fund managers and Early Stage Success Stories
Success stories that you can emulate for early real estate investing. Learn from the leaders.
Moderator: David Drake
Panelists:
Charles Cecil, Southwest Property Strategies

Jake Bisenius, AmCap retail acquisition fund

Jack Bevier, Dominion Group
3:45 - 4:00 Table Introductions
4:15 -5:00 Panel 4: The Investor Panel - the trends and international developments. What is needed now?
Leading real estate investors and family offices in multi family and commercial property investing.
Moderator: David Drake
Panelists:
5:00-5:45 Cocktail Party
SPEAKERS
(PLEASE CLICK ON NAMES FOR FULL PROFILE)
Moderator: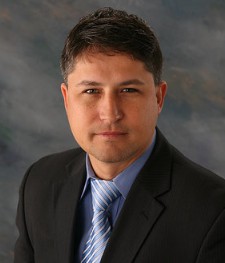 Chairman, LDJ Capital and The Soho Loft
David Drake is a leading equity expert based in New York City, USA. He is the founder and chairman of LDJ Capital, a Private Equity advisory firm, and of The Soho Loft, an event-driven global financial media company.
Keynote Speakers:
President and CEO, Rockefeller Group Investment Management
Mr. Irvin joined RGI in September 2007 to lead the firm's investment management business. At RGI, Mr. Irvin has developed the strategy and infrastructure to build and manage investor relationships across a global platform of joint ventures and investment products.
Early-Stage Real Estate Investing Panel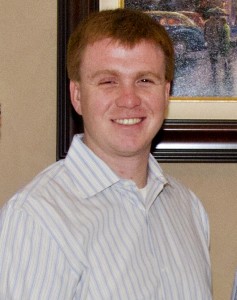 Vice President, Acquisitions, Dominion Group
Senior Loan Underwriter and Collateral Analyst
Jack has contributed to Dominion's senior management team since 2007 and is a key member of the management team because as has works in all areas of each business. He has experience in acquisitions, marketing, loan underwriting and construction.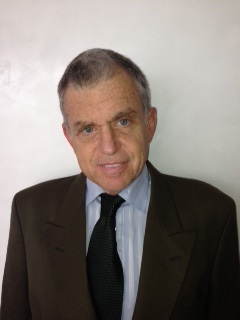 President, Manhattan Foreclosures LLC
Gerard Rem is the President of Manhattan Foreclosures LLC, a company investing in distressed real estate and foreclosure situations, working directly with banks, lenders and individual unit owners.
Founder & CEO, Signature Group Investments
Nick Jekogian is founder and President/CEO of Signature Community Investment Group. Mr. Jekogian is a licensed real estate broker in New York.

Brynam Wood
Gordon Ogden joined Byrnam Wood in 1997 as a principal, having worked in tenant representation at a number of large- and mid-sized firms including Pearce Urstadt Mayer & Greer, Pattison Partners, Insignia/ESG and CB Commercial.
Real Estate Crowdfunding Panel
Co-Founder and CEO, Realty Shares
Nav started his career as an Electrical Engineer and commercial real estate broker. From there, he transitioned into real estate law and prior to founding RealtyShares, worked as a Real Estate and Land Use Attorney at San Francisco based Farella Braun & Martel, LLP. As a Real Estate Attorney, Nav led some of the largest mixed-use residential, commercial and renewable energy real estate projects in California on behalf of National and International Clients including public REIT's, real estate developers, property owners, investors, non-profit housing providers and governmental agencies.
Co-Founder, IndieAngels

Christopher has over 15 years of executive-level experience in Commercial / Residential Finance, Private Equity & Structured Finance. The rare combination of his passion for education and entrepreneurial attitude has given him a unique opportunity to successfully develop and implement innovative business ventures.
Co-Founder, Fundrise
Benjamin Miller is a founder of Fundrise and also co-founder of Popularise, a real estate crowdsourcing website. With 15 years of experience in real estate and finance, Ben has acquired, developed, and financed more than $500,000,000 of property in his time as Managing Partner of WestMill Capital Partners and President of Western Development Corporation.
Senior Vice President, Sterling Green Corp
Lita Dwight is a real estate developer specializing in the renovation of historic buildings. She started Acquis Development Corp in 2004 successfully converting a 19th century brownstone to high end condominium units and later co-founded Sterling Green Corp with her business partner in 2009. Prior to real estate, Lita was an investment management attorney for Sidley Austin Brown & Wood and Stroock & Stroock & Lavan with a focus on hybrid hedge funds, mutual funds and other investment products. She is a graduate of Davidson College and Georgetown University Law Center. She lives with in midtown Manhattan.
Founder and CEO of Realty Mogul
Jilliene Helman is the Founder and CEO of Realty Mogul. Realty Mogul is crowdfunding for real estate, a marketplace for accredited investors to pool money online and buy shares of pre-vetted investment properties. Investors can invest in equity transactions like apartment buildings, office buildings and retail centers or loans that are secured by residential real estate.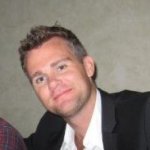 Founder, iFunding
Prior to iFunding, William worked for other corporations such as General Electric, Olympus, Bain Capital and Rose Park Advisors and has been an advisor to several start-ups. He specializes in fundraising from accredited investors, family offices and is a frequent speaker at industry events discussing real estate finance. iFunding is a real estate investment platform that uses technology to make private real estate investing simple.
CEO and Chairman of the Board of Asset Alliance (Family Office)
Bruce H. Lipnick is Founder, Chief Executive Officer and Chairman of the Board of Directors of Asset Alliance Corporation ("Asset Alliance"). He is also Chairman and Chief Executive Officer of Asset Alliance Advisors, Inc. He has an extensive background in alternative investments with over 38 years of experience in the investment management and financial services industries, and was a pioneer in utilizing various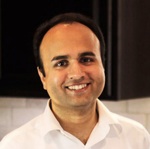 "Nick is a co-founder of GROUNDFLOOR, a crowdfunding platform focused on providing opportunities to finance high quality real estate projects. An expert in securities law, Nick was heavily involved in the JOBS Act as an early pioneer who advanced the concept of crowdfunding and was a member of the Crowdfunding Leadership Group. He was also a co-founder of Motaavi, one of the first crowdfunding entrants. Nick has taught at General Assembly, and has been interviewed by numerous national news publications on crowdfunding. He's also one of the leaders of the NC JOBS Act team, promoting a state level crowdfunding exemption in North Carolina, expected to pass in 2014. His years in finance have included work for the Financial Services Roundtable, SEC, FINRA, TD Waterhouse and RBC Financial Group. Nick received his LLM at Duke University School of Law and holds a BS in Biological Sciences and Business from the University of Alberta."
Rodrigo Nino
CEO and Founder, Prodigy Network
Rodrigo Nino. is revolutionizing both the real estate and crowdfunding industries by being the first to meld the two worlds.
After successfully representing numerous projects in Miami for sales and marketing, Nino brought Prodigy Network to Manhattan in 2007 and immediately started working on some of New York's most iconic projects, including Andre Balazs' residential condominium, William Beaver House and the Trump Organization's ground breaking hotel condominium, Trump SoHo. Meanwhile, Nino continued to build on his success and expand internationally by pursuing projects in Mexico, Colombia, and Panama.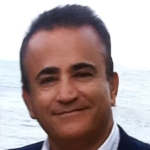 Founder and CEO, SVCF Ventures, CrowdFundBeat and ICFFF

Sydney Armani is a long time silicon valley entrepreneur, with more than twenty years experience in Valley's community acting in both an entrepreneurial and investing capacity. Sydney is publisher of CrowdFundBeat.com, an online daily crowdfunding news site in US and UK. He is also the organizer of the annual Silicon Valley Meets Crowdfunders conference in Palo Alto, CA
Angels and Fund Managers Panel
CEO, SouthWest Property Stategies
Mr. Cecil serves as the Partnership's Chief Executive Officer and has 30 years of real estate experience as a principal and intermediary in commercial, residential, hospitality and retail property in the major U.S. metro markets including extensive experience in restructuring and repositioning properties.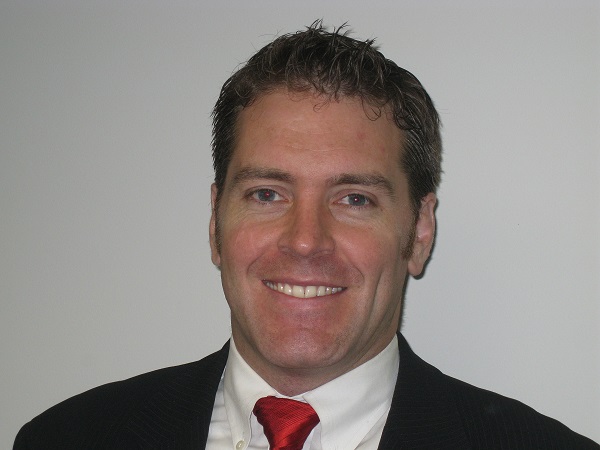 CIO, AmCap, Inc.
Jake Bisenius is the Chief Investment Officer of AmCap, Incorporated, a real estate private equity firm with $1B of AUM. Jake has been in the real estate industry for over 12 years and has handled more than $1 billion worth of real estate transactions throughout his career.
The Investors Panel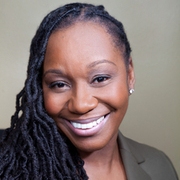 Real Estate Investor, Attorney-at-Law
Teresa R. Martin, Esq. is a sought-after lecturer, keynote speaker, consultant, facilitator and educator; who demonstrates a deep understanding of the importance of financial education in business and in life.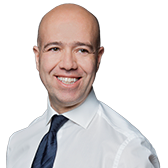 Founder, Lerro & Partners
Alessandro is an Italian lawyer expert of new technologies and business creation. A wellknown Italian expert of crowdfunding, Alessandro published "Equity Crowdfunding" for Il Sole 24 Ore and is a regular speaker in conferences and workshops. Founder of Lerro&Partners, he has been advising for years start up and small/medium sized companies dealing with information real estate, information technology, and media.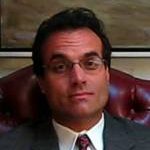 John Pasquale
CEO, PEP Real Estate