MOSAIC
Who: You and Your Friends
What: The 8th Annual Asian Heritage Street Celebration Artist Preview Show - MOSAIC
When: April 20th 2012 6:00pm - 9:00pm
Where: 111 Minna Gallery at Minna and 2nd

For opportunities for organizations be a part of the show or for volunteer information contact steven@vivesf.com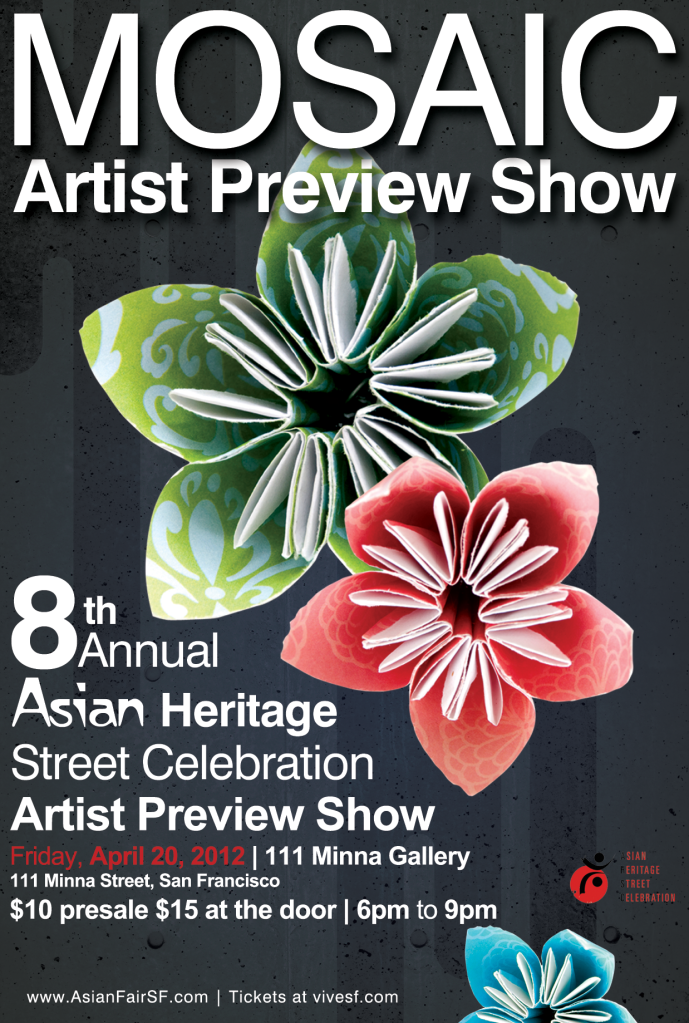 Artist Preview Show - MOSAIC
The Asian Heritage Street Celebration Artist Preview Show, named MOSAIC this year, is your chance to get a sneak peek of some of the amazing Asian American talent you will experience at this year's 8th Annual Festival. Be a part of a night of expression through performance art while you wine and dine on light appetizers. By coming together, we can support each other while at the same time, express our unique diversity. Make sure you don't miss this sophisticated, unique, and exciting evening.
The Evening
Come early to mingle, meet new friends, and enjoy free hors d'oeuvres and wine tasting! A community mixer kicks off the night when doors open at 5:30PM. The show will start at 6PM. Semi-formal attire suggested. Come for the mixer, come for the show, and come to support your community.
This is a 21+ event
Light Snacks
Free food provided by local San Francisco restaurants because we don't want you to go hungry! And since the show is around dinner time, we are offering snacks, free with your entrance ticket.
AHSC
The 8th Annual Asian Heritage Street Celebration will be held on Saturday May 19, 2012 in front of the Asian Art Museum, leading up to the Little Saigon District in San Francisco. The street fair gathers all communities among Asian Pacific Islanders in the San Francisco Bay Area, and enables cross cultural interaction through sharing of cultures, promoting Asian inspired arts and crafts vendors, creation of innovative programs and entertaining activities for visitors and participants.

The Asian Heritage Street Celebration (AHSC) is organized by the AsianWeek Foundation in cooperation with over 150 organizations in the Asian American community. The AsianWeek Foundation is a non-profit 501(c)3 committed to developing the Voices of Asian America and bringing together the community.



www.AsianFairSF.com
The Venue

The Artist Preview Show will take place in the coveted 111 Minna Gallery. Enjoy the evening mingling between two spacious rooms with two full bars.

The space at 111 Minna Gallery is reminiscent of an urban industrial warehouse with 16 feet high walls, floor to ceiling windows facing out on 2nd Street, exposed piping overhead and original hardwood floors. The sophisticated modern design of the space is animated by a 25 foot long rolled steel and copper bar created by Bay Area sculptor, Jud Bergeron, multifunctional theatrical lighting designed by Terry Ohm of Impact Lighting, and an eclectic mix of modern and antique furnishings.




www.111minnagallery.com
Performers
Mandeep Sethi
Bochan Huy
Johnny Hi-Fi
YoYoJo
Artists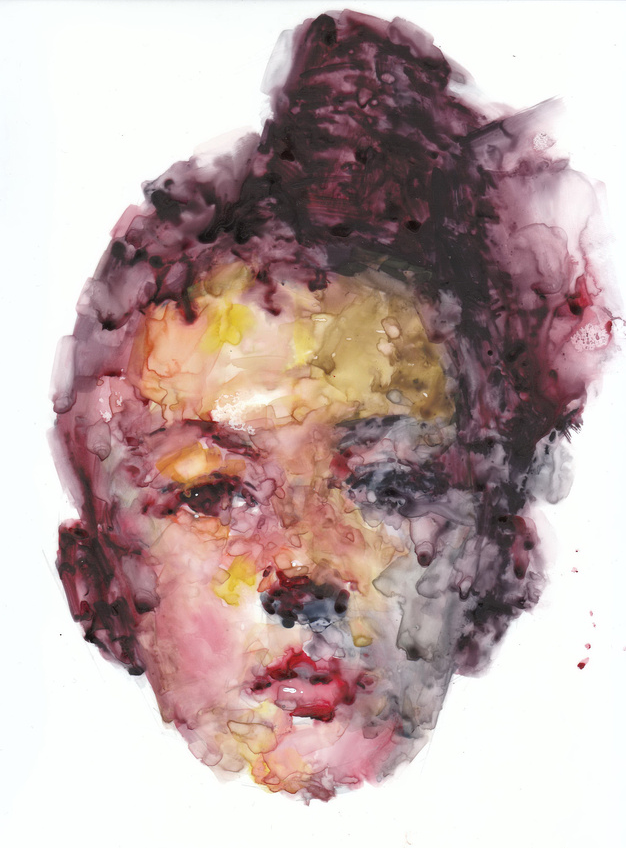 Akira Beard
www.akirabeard.com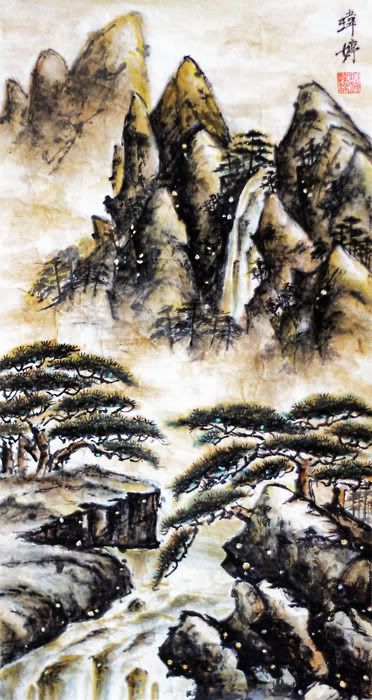 Helen Liu
www.helenkliu.tumblr.com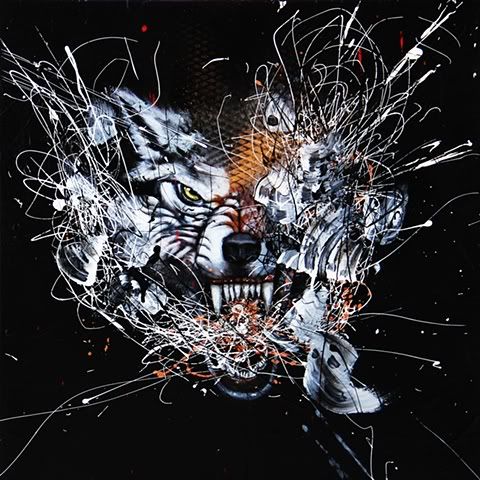 Joon Park
www.novemberpark89.com
Community Sponsors
AsianWeek Foundation
The AsianWeek Foundation is a leader in bringing together the Asian Pacific American community. We work with businesses, community groups, and visionary individuals who want to develop or deepen their relationship with today's Asian Pacific America. AsianWeek Foundation was created to implement a full spectrum approach towards community organizing and community assemblage. Therefore, we seek to apply this approach in a wide selection of areas and issues.
Bay Area Asian Pacific American Legislative Staffers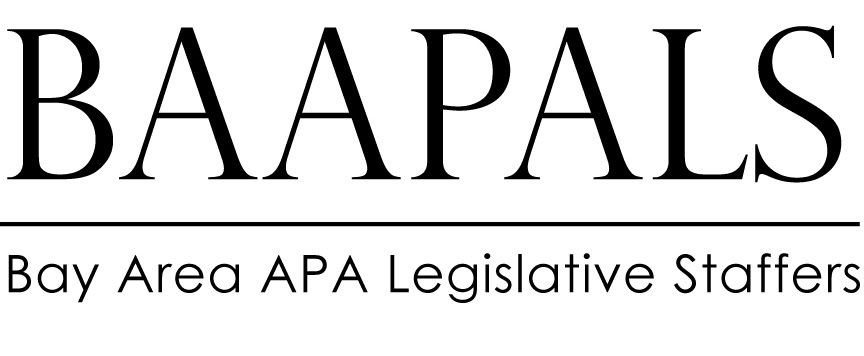 Started in 2007, the Bay Area Asian Pacific American Legislative Staffers (BAAPALS- pronounced Bay-Pals) is a network of current and former legislative staffers from all levels of government in the Bay Area.
BAAPALS has two distinct missions:
(1) to promote staff recruitment and development of Asian Pacific American Legislative Staffers, and
(2) to increase knowledge of Asian Pacific Islander communities and issues.
To reach these goals, we plan events for our members to expand personal interests, promote community service and encourage professional development. In addition, we maintain an active mailing list to share job opportunities, policy news, and community events to our members
Bay Area Benefit
BayAreaBenefit.org was originally just a website launched in 2009 to support fundraisers for the victims of Typhoon Ondoy and the children surviving disasters in the Samoas along with Bay Area's homeless individuals. Today, Bay Area Benefit is incorporated with the State and currently in the process of registration for nonprofit status.
California Dragon Boat Association
The California Dragon Boat Association (CDBA) is a non-profit organization formed in 1996 to promote the growth and development of dragon boating. The CDBA has been successful in establishing dragon boat programs in many Bay Area high schools and has grown the annual San Francisco International Dragon Boat Festival (Sept. 15-16, 2012) to the strong international reputation it has today.
Hyphen
In 2002, spurred by the shuttering of a.Magazine, a small group of 20-and-30-something journalists and artists got together to fill the void by envisioning the kind of magazine we always wanted to read: a publication that would go beyond celebrity interviews and essays about discovering our roots, which we found a long time ago, thank-you-very-much.
We began meeting around a kitchen table in San Francisco that spring and over snacks and beer, a vision slowly emerged. The magazine wouldn't flinch at covering serious issues, but also wouldn't take itself too seriously. It covered Asian Americans in Texas, Kansas and Minnesota, not just the critical mass living in California and New York. It would feature emerging artists, thinkers, and doers, not only the few established Asian Americans who have already gotten mainstream approval. It would be a magazine that looked beyond identity -- we'd explore cultural issues while tackling what is Asian American by accident, by tangent or by happenstance.
Kollaboration SF
Kollaboration is a nonprofit organization that promotes Asian and Pacific Islanders to pursue their passions in the entertainment industry. We work to bring together the API community and collectively support these talented people at our annual show.
National Association of Asian American Professionals

The National Association of Asian American Professionals (NAAAP) is a 501(c)(3) non-profit organization that cultivates, supports, and promotes Asian American leaders. NAAAP offers professional development opportunities on the local and national level, engages its membership in community service, and organizes professional networking events. Through NAAAP, members work together to enhance leadership in their careers and communities.
Nakayoshi
Nakayoshi is a group for young adults and recent college graduates in the San Francisco Bay Area looking for opportunities to network, volunteer and get involved in the Japanese American and Asian Pacific American community, and to have fun at the same time!
National Asian Pacific American Women's Forum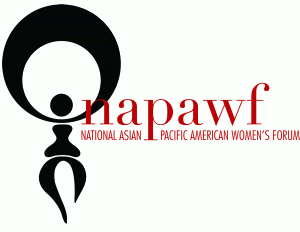 NAPAWF is the only national, multi-issue Asian and Pacific Islander (API) women's organization in the country. NAPAWF's mission is to build a movement to advance social justice and human rights for API women and girls.
This May 17th, NAPAWF Bay Area is putting API women and girls center-stage at the APA Vagina Monologues. Don't miss it! www.apavaginamonologues.com for tickets and more info.
The Oakland Asian Cultural Center
OACC is a thriving first class community arts organization in Oakland and the Bay Area that promotes cross-cultural understanding for present and future generations. Local artists and their cultural art forms are promoted through a variety of programming and community collaborations. OACC envisions vibrant, healthy, and just communities where diverse Asian and Pacific Islander American identities and heritage are affirmed and celebrated through cross-cultural interchange, intergenerational dialogue, and educational programming.
The Princess Project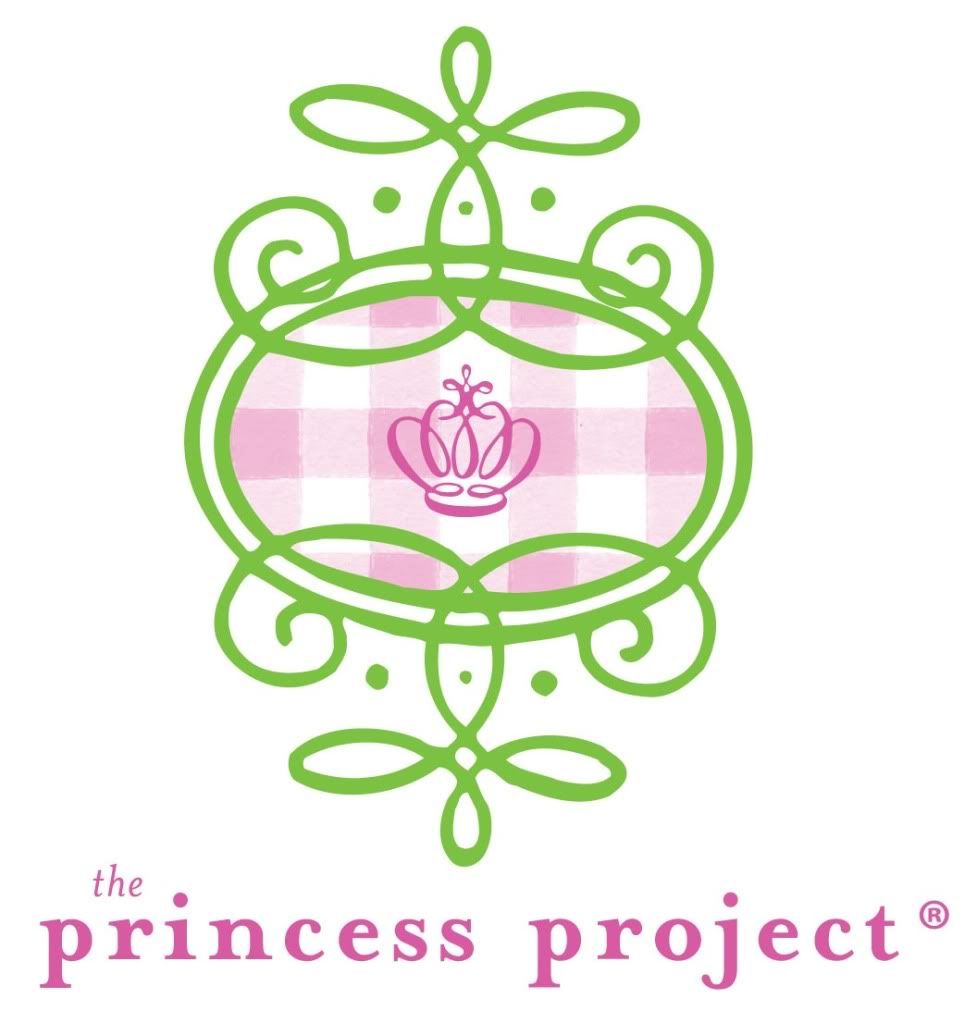 The Princess Project promotes self-confidence and individual beauty by providing free prom dresses and accessories to high school girls who cannot otherwise afford them. Our effort is made possible through invaluable volunteer, donor and community support.
RAMA
RAMA is a Pan Asian arts and entertainment organization founded in the San Francisco Bay Area. By providing exciting and accessible platforms for the imagination of new Pan Asian artistic identities, RAMA inspires creativity and integrity in the community. Bringing you the finest and most innovative independent Pan-Asian talent at exciting concerts and events, RAMA is the Pan Asian Renaissance!
Rsrve.me
Rsrve.me is a web platform for couples to discover, purchase and save time in planning dates by offering exclusive date experiences, typically consisting of a meal + activity. We work with select merchants to curate and customize each package, such as a private chef tour before dinner followed by a cocktail mixing session.
Rsrve.me will be raffling out one of their unique date experiences at MOSAIC! Click here to check out this special package.
TaiwaneseAmerican.org
Founded in 2006, TaiwaneseAmerican.org is a web portal site highlighting many of the interesting people, events and organizations that make up Taiwanese America. It is both a volunteer-driven website and a non-profit organization that intends to connect and promote those who identify with the Taiwanese identity, heritage, and/or culture. By establishing our niche within the broader Asian Pacific American and mainstream communities, we hope to collectively contribute to the wonderful and diverse mosaic that America represents.
TAP-SF
TAP enhances the Taiwanese American community by networking individuals interested in professional and career development, while emphasizing the preservation of Taiwanese American identity. TAP provides resources and programs that inspire, empower, develop, and support professionals to become community-oriented leaders. TAP's primary focuses are on Leadership, Identity, Networking, and Community (LINC), and is the largest network of young Taiwanese American professionals in the country with major chapters in cities such as Los Angeles, New York, Chicago, and Washington D.C. Visit our website at:
The Spot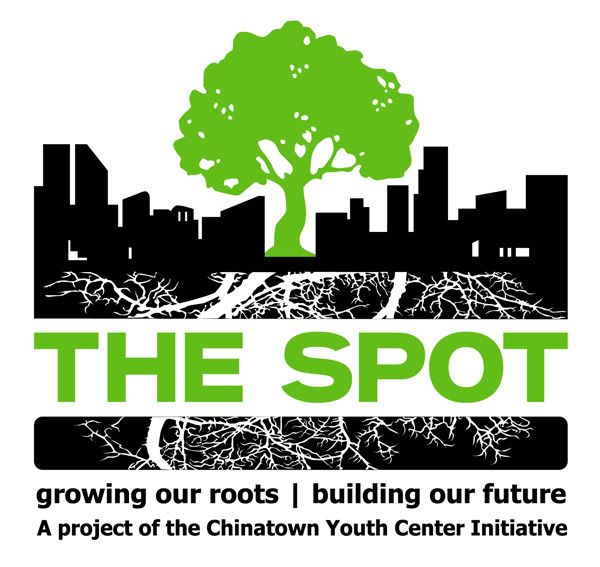 The Spot is a collaborative youth center that provides comprehensive positive youth development to prevent violence and foster healthy transitions into adulthood. Its mission is to support the success of youth and young adults by fostering their emotional, physical, intellectual, and spiritual health through holistic, coordinated, youth-driven resources and opportunities. Under the theme of "Ready for the Future," The Spot works with community-based organization partners to provide programming and services in the following core content areas: 1) Job Training and College Readiness; 2) Arts, Culture, and Heritage; and 3) Health and Wellness.
The Spot is located in the heart of Oakland Chinatown and targets Asian and Pacific Islander youth and young adults ages 14 to 24, however, all youth are welcomed into the space.
vive
We, at viveSF, believe in promoting events to the San Francisco community as a whole so that no matter what your heritage or background, everyone can appreciate a renaissance of culture and art. Great things happen once individuals of all backgrounds get together to network and build relationships. That is why we are here, to help and promote community building!